Swiss Team in April
April 19th Open Swiss
GNT Qualifier
Triple half RED, half BLACK Points
1:00pm
April 28th Flight "B" GNT Qualifier
Triple half RED, half BLACK Points
7:00pm
All games in April will be Charity Games.
The local charity games will benefit Godfrey Oakley's Spina Bifida Project.

Extra point games all month long!
Learn to play bridge!
Eight lesson series $75.
Sundays 2:00pm
New series starting April 26th.
Call Dan 770-662-9527
Leave message if no one answers.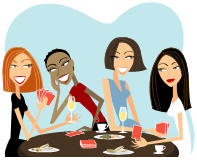 It's here at last! Beginner Pairs Sundays 3:00pm
If Thinking Is Cool....
Then Bridge Rules!
Free Junior Bridge Lessons at the Atlanta Duplicate Bridge Center
Instructors: Marty Nathan & Patty Tucker
Saturdays 9:30 am to 11:30 am
For more information contact Patty Tucker @ 770-457-6251